Cumberland News Review (3/11/12)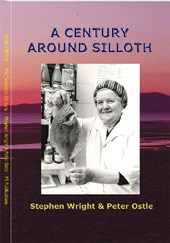 Visitors came to Edwardian Silloth for fresh air, sea bathing and long walks. "Sunshine.is so prevalent that the mean average temperature is, in fact, higher than many places in the south of England. This, combined with the almost complete absence of fog, renders Silloth a particularly desirable place for invalids." 'They would stay in one of the large hotels or one of the · numerous boarding houses such as that run by Mrs Over, at 3 Esk Street. which had two double rooms and one single to let. They might choose to have their photo taken at Annie Gibb's Photographic Studio, with its large window to make the most of the Silloth light. Her carnival pictures showing young girls enjoying dressing up as the Queen, Britannia or forming small groups of gypsies or geishas. They might visit the Happy Valley and watch the ever popular Pierrot Show, which had started in 1901, when David Fuller, George Worthington and Arthur Court donned their white costumes and pushed a piano across the Green to entertain anyone who would listen to their songs and jokes. Their numbers increased - there were nine Pierrots in 1910 - and they became a special feature of a Silloth holiday.
The visitors might also enjoy a round of golf. The club was formed in 1894 and the original clubhouse bought secondhand from Dalston Tennis Club was superseded by a fine new clubhouse within 10 years. The captain of the Silloth tug, William Richardson and Thomas Stanwix of Blitterlees survived and returned home but Samuel T Borthwick, Stanley Brown, Joseph Brown, Edgar Swan and John Jefferson Underwood were killed. Posters called on women to join the Land Army and others proclaimed that "The Kitchen is the Key to Victory." Twenty years later railway posters were promoting first class tennis and golf at Silloth on Solway.
Peter Ostle and Stephen Wright and their friends of the Holme St Cuthbert History Group have assembled a third kaleidoscope of life among "the Plain People". Here is the life of the ordinary folk at any time in the last century. "Pop" Carr gives a thumbs-up as he stands outside his garage in Waver Street. Bill Brown and Noreen Littleton pose in front of the Ritz Café in Station Road. The class of 1948/49 stand and smile for the camera. William Longcake in his white apron prepares to serve yet another ice-cream. Young Albert Weir can be seen leaning proudly on the wheel of his Fordson tractor in 1947. Ethel Fisher offers a tribute to "Sunny Silloth." She calls on everyone to "Try oor Solway Breezes an git yer lungs weel fillt."
Peter Ostle and Stephen Wright have done an excellent job in ensuring that this treasury of Silloth and Solway life in words and photographs is really "weel fillt". It must be the 'Solway breezes and the Silloth sunshine. Steve Mathews
184 pages softback with over 460 images and illustrations.