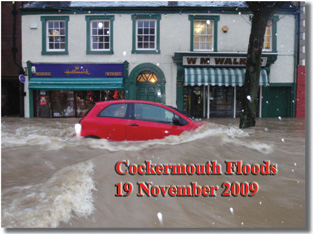 Cockermouth was badly affected by the floods which hit Carlisle in 2005, but little was heard in the media at the time as the flooding in Carlisle was so devastating. That was said to be a 'once in a 100 year' flood.
Unfortunately in the third week of November 2009 unprecedented rainfall fell over the West Cumbrian Fells on already saturated ground. The rivers Cocker and Derwent, which meet in Cockermouth, just could not cope with this deluge and on the night of Thursday 19th November both rivers burst their banks causing massive flooding throughout West Cumbria.
Cockermouth was very badly affected and this book provides a pictorial record of that devastation using photographs taken by the Cockermouth Mountain Rescue Team and other local people at the time.
On Monday 1 February 2010 a cheque for £4000 was presented to the leader of Cockermouth Mountain Rescue team and a cheque for £4000 was also presented to the director of the Cumbria Community Foundation (Flood Recovery Fund). This followed the sale of the first print run of 4000 copies.
ISBN 978-0-9559017-3-7 (£5) A5 landscape format, 48 pages, over 55 photographs in full colour, softback, stitched
Price in UK £5 (Sorry out of print.)
Link to new childrens' book by Melinda McNicholas: click HERE