The fastest selling local book for Carlisle ever!
The Carlisle Floods (January 8th 2005)
BY DAVID RAMSHAW
20 June 2006 - Lakeland Book of the Year Awards winner
| | |
| --- | --- |
| | |
| Overall book of the Year (2nd out of 53 entries) | Photographic prize (2nd in Section) |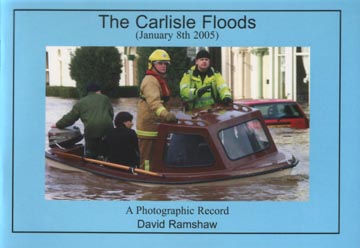 On Saturday 8 January 2005 the citizens of Carlisle woke up to the worst flooding seen in the city for almost 200 years. The weather had been exceptionally windy and wet for several days and storm damage with the possibility of flooding had been forecast.
However no one could have foreseen the extent of the flooding that occurred on that Saturday morning. In a very short space of time the city ground to a halt and by lunchtime the whole city had lost its electrical power.
This book was compiled only two days after the event. At the time of writing many people are still staying in emergency accommodation and the overall cost of this tragedy has yet to be assessed.
The photographs in the book were taken by the author as he walked from one end of the city to the other to assess the situation.
ISBN 0 9547739-1-8 (£5) A5 landscape format, 48 pages, over 70 photographs in monochrome, softback, stapled
Price in UK £5 Online order: post and packing free.
A cheque for £4500 from the proceeds of this book was donated to the Flood Recovery Fund (Cumbria Community Foundation) on 22 March 2005